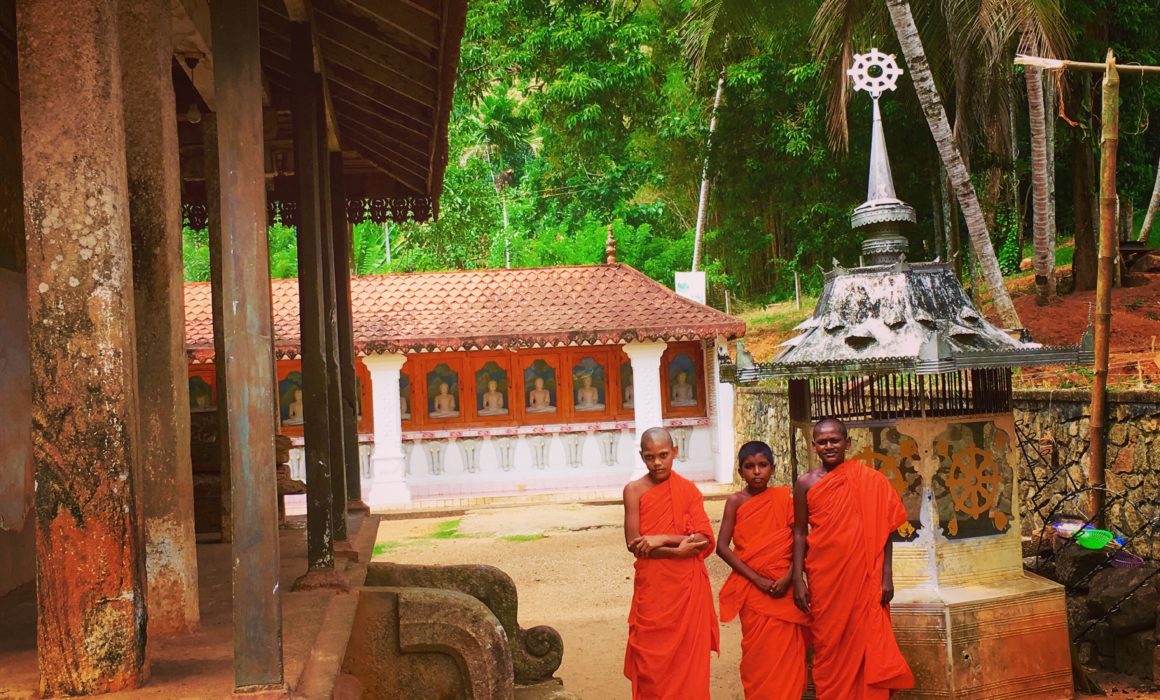 Even in the 21st Century, there are still a few places in the world that have not been inundated with tourists and deliver authentic experiences.It's Sri Lanka, the primitive island located southeast of India. Formerly known as Ceylon, it pairs perfectly with a trip to the Maldives or the UAE.
After spending a week in the Maldives with my mother and nine-year-old son, we took an hour-long flight from Malé to Colombo to begin a short (but adventure-packed) five days in Sri Lanka. Our guides took us on a drive around the capital city, which boasts a long history as a port on the East-West trade routes of old. You can see the diversity here, with the influence of the Portuguese, Dutch and British who once ruled it. It was fascinating to see the various religious sites represented – Buddhist and Hindu temples and a Dutch Reformed church – as well as parks, cricket stadiums and an incredible beach.
An experience found nowhere else in the world …
With only five days to spend in Sri Lanka, we needed to make the most of our time. We headed to the small seaside town of Negombo for our first night, where we noticed its strong surfing culture presence. While wandering through town, we stepped in to lots of cute shops and places offering traditional local medicine and Ayurvedic treatments.
The next morning, we followed the Kurunegala-Negombo Road to Dambadeniya, a ruined ancient city that was the capital during the Sri Lankan Third Kingdom. In the Dambadeniya Kingdom and Palace Complex, we met with the head monk and brought him floral gifts. In exchange, he let us touch and hold 800-year-old artifacts, including scripts, tools and paintings! This is unheard of anywhere else in the world. We felt so honored. At the nearby school for monks, three of the novices hiked with us up a hill to ancient monastery ruins overlooking the temples of the Third Kingdom.
From elephants and amethysts to Buddha's tooth …
From there, we drove to Pinnawala and the sanctuary for abandoned and wounded elephants. We were there in time to see a remarkable sight: the daily parade of about 100 elephants through the town to the local river to bathe. What is particularly curious is that they take the same path every single day, so if anything – even a building – is in their way, they'll go right through it.
As we continued to go through Sri Lanka, the "Gem Island," we met with a gemologist who told us all about the precious stones mined in the area. You can find anything from rubies to amethysts to black opals. Because the gem markets are not regulated, you can really get a good bargain.
It was hard not to notice that religion plays a major role in Sri Lankan culture, especially in our next stop, the walled city of Kandy. The spiritual and cultural heart of the country, Kandy has a retro ambience enhanced by Buddhist culture. We learned that when visiting a Buddhist temple, you are expected to have a gift ready to offer Buddha. We brought white lilies when we stopped at the Temple of the Sacred Tooth Relic (Sri Dalada Maligawa), which, you guessed it, houses the relic of the tooth of Buddha. Lines and lines of followers were there, offering anything from flowers to crockpot dinners to silver trinkets.
Tea tasting in the highlands …
The following day, we drove from Kandy toward Yala into the highlands, reaching an elevation of 4,000 feet. The area is lush and gorgeous – like wine country – but instead of vineyards, it is filled with tea plantations. Some of the world's finest tea is grown in Sri Lanka, and we visited plantations to learn about tea production and, of course, sample some of the delicious brews.
A Sri Lankan-style safari … After a scenic drive in the highlands past waterfalls, we headed to Yala, home to a national park. Staying in the seaside town of Tangalle is great option when visiting Yala. Amanwella Resort, an intimate all-suite property, offers amazing sea and garden views, an Ayurvedic spa and an incredible infinity pool. Another possibility is Anantara Peace Haven Tangalle Resort, located on a secluded stretch of coastline amid a coconut plantation. If you really want to get away and indulge in Ayurvedic and reflexology treatments, practice yoga and meditation, or swim, this is the place to go. From either property, you can get up early in the morning and drive an hour and a half to the park.
We, however, went for more rustic accommodations: "glamping" by the park's entrance our first night. We had a bonfire and dined on homemade dal, jackfruit curry (polos), pennywort salad (gotukola sambol), potato curry, roti, hoppers (fermented pancakes) and funnel cake for dessert. We enjoyed our delicious meal while star gazing in the Sri Lankan bush – anxiously anticipating our morning leopard safari.
Our local shinta guide, Achintha, took us by open-air Jeep along off-the-beaten-path roads through the park on a Sri Lankan safari. In addition to seeing leopards (often elusive creatures), we observed elephants, sloth bears, water buffalo, alligators and many birds. My son took photos, with pointers from Achintha, and that was the beginning of what I think will be a real hobby for him.
Clay-pot cooking and white-water rafting … The next morning, we went to Yala Beach where we saw local fishermen using traditional nets to fish. We bought a fish, took it back to camp and had a cooking lesson. I learned how to skin, slice and dice a fish to prepare delicious Sri Lankan fish stew, Bawarchi, which is cooked in a clay pot.
We had experienced so many amazing adventures, but we had one to go before returning to Colombo for our flight home. We went white water rafting in Kitulgala on the scenic Kelani River. This thrilling ride over major and minor rapids ended with more leisurely floating and an opportunity to just enjoy the birdlife and beautiful natural surroundings.
In retrospect, Sri Lanka is worth a visit on its own or before a visit to Dubai or the Maldives. It's still unspoiled and quite primitive – and not for someone with mobility issues – but it offers a lovely balance of culture, nature and an authentic experience.